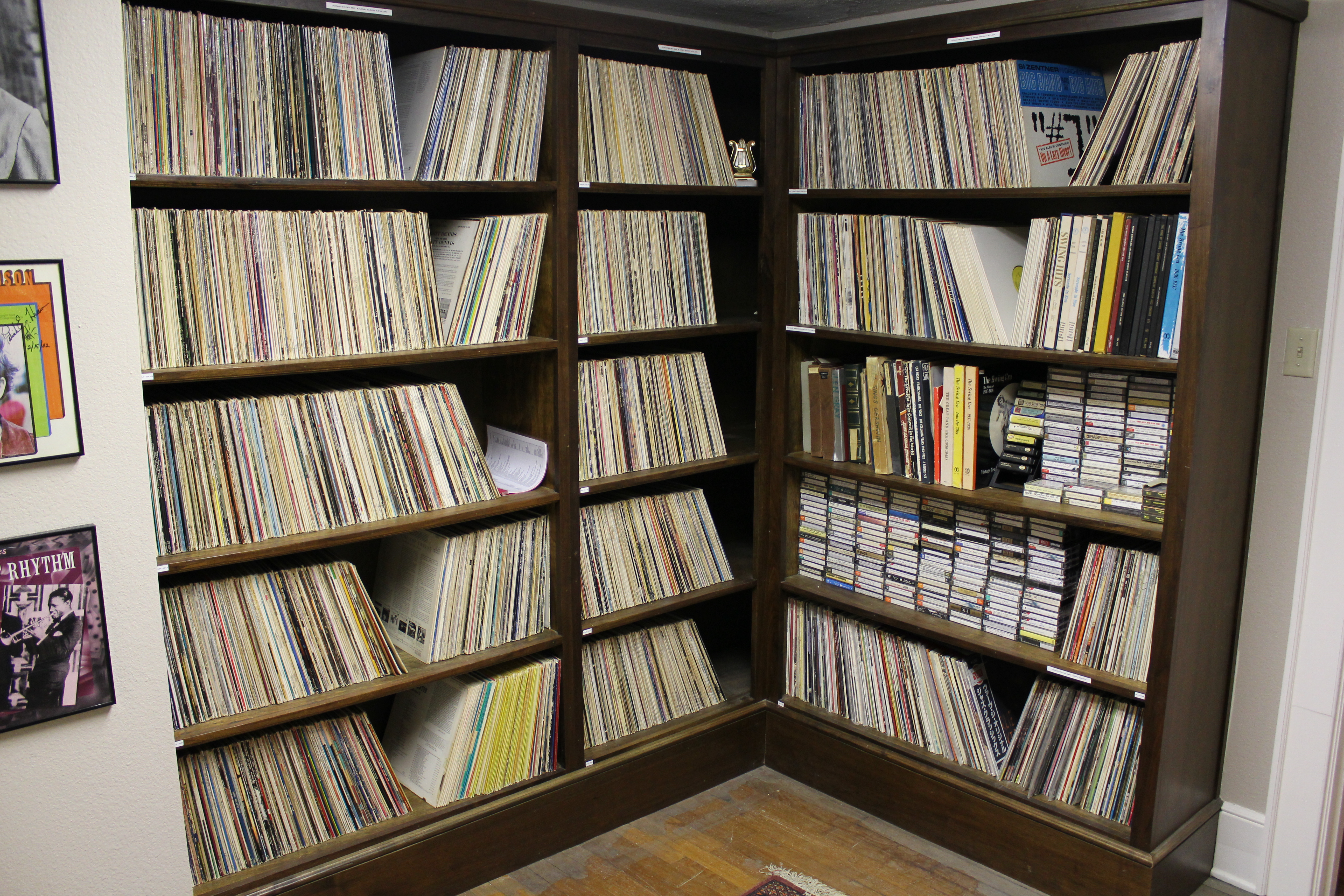 When I started working on the museum in October of 2005, I only had a few records of my own to put in the museum.  Soon, however, we acquired 3,400 records in two donations from two of my friends.
Leonard Belota donated his entire record collection of about 1,200 albums to us as soon as he found out what we had in mind.  He had collected mostly small group albums during his life, and it is a marvelous collection. He had no kids to leave the albums to, plus he could always come see his collection anytime.  Because I had been collecting mostly big band albums during my life, his donation was a perfect fit.
Mark Taylor's dad had been a jazz DJ in Ohio for ten years before he died and after he died, Mark offered his dad's 2,200 albums to us. Mark and I had been students together at North Texas years before, and had remained friends through the years.  His gift was beyond belief to me.  All of a sudden we had a serious record album museum with some fantastic albums for people to see and examine. I was starting to see that the museum was taking shape on it's own, as I stood by and watched how the universe worked.
I started to set up the museum in sections based on what we had.  I decided to select several of the most important trumpet players, and showcase their albums. Each section had room for a different number of records, so the positioning of the players was based primarily on how many records I had of each player. However, I wanted Al Hirt next to Wynton because Al gave Wynton his first trumpet.  I also wanted to mix the races as much as possible so people wouldn't see any bias from me in any way.  To musicians it's all about the music and how you play, and that's the attitude I wanted the museum to promote.  It is the music I am trying to expose people to and any other agenda would not be accepted. If someone walked in as a fan of Maynard Ferguson, I wanted them to walk out with an interest in someone else, such as Miles Davis or Chet Baker.  I wanted to show how many great players and jazz styles the jazz world possessed, just in the area of trumpet.  I also wanted to show how the players are all connected in an evolutionary process.  In the more modern players, you can hear many of the players who came before them.  The early players influenced everyone who came along later, and, as you see the players on the walls, you can see that connection.
My thinking is that someone can spend an hour at the museum looking and listening to the many jazz players on display, and in that short time link a sound with a face.  If they like a certain sound they hadn't heard before, it will open up a new world of listening for them. That's my idea for the museum, and it's jazz education in a fun, easy approach.  Maybe my two music education degrees will be of more use than I originally thought.  My playing experience and my college experience finally started to make sense to me.  The years of playing was not a dead end and the college education was not a waste of time and money.  Having said that, most of my time running the museum is spent in the business world.  Working for my dad part time for 28 years helping to manage his properties and investments also made sense.  It is how the museum can survive long term, I hope.