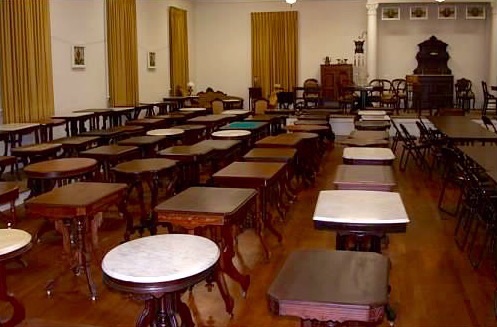 When we decided to have a jazz museum, all we had was a building, a large room full of antiques, and about 400 records I had bought over the years.  The antiques would have to be sold off to make room.  This was the top floor of the building, and we already had another floor below that was full of antiques.  A record album museum was exciting to me because I had recently learned from our daughter that album covers were going to be a thing of the past.
Our daughter was beginning to download songs and albums onto her iPod. I was horrified to think that she would have no hard copy album covers and more importantly, no liner notes. The liner notes tell you who composed the music, who did the arrangements, who played on the tracks, when it was recorded and where, not to mention the tunes and the time for each tune. In addition there might be photos and information about the band, or the recording session. Part of my love of getting a new album was reading the liner notes as I listened to the record.  The history of jazz is written on the backs of record albums, not just in books.  The cover art was also interesting because each album was different, and a photo of the band might be there, also.  Liner notes and cover art were about to be history going forward!
We decided to have a record album museum, but no CDs because we had no room for them. That meant the museum would only contain music up to about 1989, when CDs took over for good.
The museum needed a curator to design the look for the walls, paint, albums, etc.  We chose our daughter, not knowing what a talent she had for that type of thing.  We couldn't have found a better curator.  It is interesting to me that my path in life was to put together a museum, and I was given just the right kids to help me do that.  She has done a fantastic job, as you can see in the photos.  Our son's story will come later in the process.  The early photos are from early 2008.